There are few funny stories to emerge from American politics over the last two months, especially during the constitutional embarrassment of the latest faux and cursed impeachment. There is, however, one story that stands out as laugh-out-loud funny, and symptomatic of the cultural decay, which has been a constant theme of this blog since its inception in 2015, especially its advanced rot among the cultural elites of the American Imperium.
Amidst the farcical crescendo of the impeachment show trial, Senator Ted Cruz appeared on television and, using perhaps a tired allusion, said the proceedings were, as Shakespeare wrote, full of sound and fury, signifying nothing.
Now Ted Cruz is a very smart and witty man. He has presented many cases to the US Supreme Court, and indeed has been mooted as a Supreme Court judge himself. His podcast, Verdict with Ted Cruz, is enjoyable, insightful, and reveals a politician capable of fine language, extended argument and good judgement. So you would think that any puffed-up newscasters of the legacy media, who wanted to stage a storming in a teacup, might take at face value that Cruz's allusion was, in fact, correctly made to Shakespeare. Or at least, if they had doubts, they might ask any half-educated person in the office or one of their supposed "fact-checkers".
But here is where the story of cultural decay kicks in. Andrea Mitchell is an establishment news presenter with NBC, and indeed has been their Chief Foreign Affairs and Washington presenter. She has a proclivity for illusion, having been a wild booster of the RussiaGate hoax. She has a degree in American literature from Penn University, and graduated in 1967. Goodness, she is married to Alan Greenspan , that disciple of a bad writer, Ayn Rand, who ran the Reserve Bank and saw his mental world collapse in the 2008 financial crisis. She should know how to check her gotcha journalist games. But here is how she responded to Cruz's casual dismissal of the significance of the latest Democrat impeachment trial.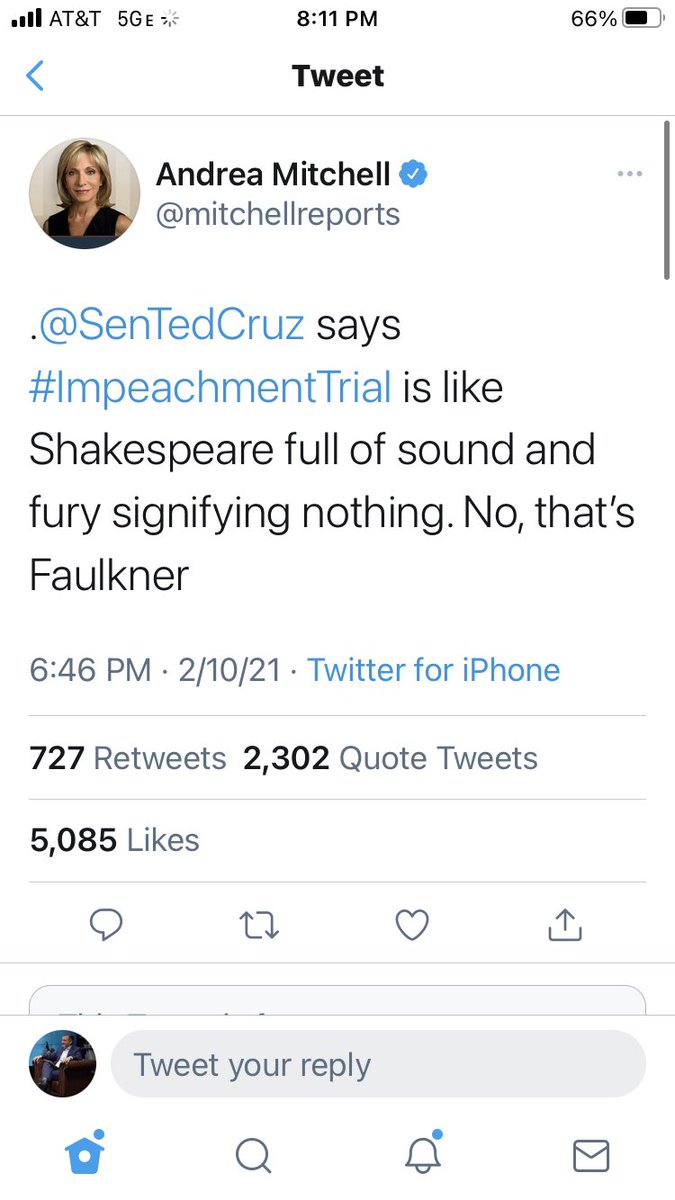 Oh dear! And to say this, without realizing Faulkner's title is a Cruzian allusion to Shakespeare.
Despite this clear mistake, thousands, included accredited journalists, piled on and mocked Cruz, with no irony, for his lack of literary knowledge. They were all terribly wrong, ineptly foolish.
Ted Cruz snapped back:
Much humour was had across the internet, well reprised here. For example, episode 56 of The American Mind Podcast: the Roundtable provides an hilarious hour of riffing of Shakespearean and Faulkner-like malapropisms, misattributions and comical errors. By the way, listen to it – this is a terrific podcast, and James Poulos, Spencer Klavan and others at The American Mind/The Claremont Institute have great insight into the double helix of American political and cultural decay.
Few pointed out that one part of Faulkner's novel is, in narrative form, indeed a tale told by an idiot (to deepen the Shakespearean allusions, if with no longer appropriate language, but a known term from Faulkner's time). The first section of the novel is written in the voice of Benjamin "Benjy" Compson, an intellectually disabled 33-year-old man.
Few pointed out that Macbeth is the deep tragedy of a man who dishonours himself by usurping power. No comparisons with any leading figures of the American Republic can be made there, can they?
But more relevantly, Faulkner's novel is a tragedy of a dying elite – the Compson family of Southern aristocrats whose family and reputation are dissolving in the wake of defeat in the Civil War. They descend into the ruin; they lose their faith; they abandon the citizens of Jefferson who in turn view them with contempt; they die tragically.
Perhaps the American elite has become obsessed by its own demise. Perhaps Andrea Mitchell asks a mirror every morning, "Who is the most decadent mind of all?" Perhaps Andrea Mitchell's mind is imprisoned by the power of Faulkner's portrait of a failed and failing elite because that is what she sees around herself every single day.